Amer­i­cans' love affair with lawns has con­se­quences. The Unit­ed States has over 63,000 square miles of lawn, an area over three times larg­er than any sin­gle irri­gat­ed crop (there's a map as well). Each week, 54 mil­lion home­own­ers mow their lawn, pro­duc­ing pol­lu­tion and using fos­sil fuels. Lawns also require water and fer­til­iz­er, and many Amer­i­cans also use pes­ti­cides to kill weeds and insects.
1. Air Pol­lu­tion: The mow­ers, leaf blow­ers, and trim­mers Amer­i­cans use on their lawns are a major source of air pol­lu­tion, includ­ing volatile organ­ic com­pounds (VOCs), par­tic­u­late mat­ter (PM), nitro­gen oxides (NOx), and car­bon monox­ide (CO) (EPA Nation­al Emis­sions from Lawn and Gar­den Equip­ment). In fact, the air pol­lu­tion pro­duced from mow­ing for an hour is about the same as dri­ving 100 miles in a car! These pol­lu­tants can cause asth­ma attacks, lung dam­age, heart con­di­tions, and pre­ma­ture births.
2. Water Use: Amer­i­cans use 200 gal­lons of potable, or drink­ing-qual­i­ty, water per per­son per day to main­tain lawns — between 30 per­cent and 60 per­cent of munic­i­pal water supplies.
3. Cli­mate Change: While lawns pho­to­syn­the­size, a recent study has shown that due to heavy main­te­nance, such as mow­ing, leaf blow­ing, water­ing, and fer­til­iz­ing, lawns actu­al­ly pro­duce more car­bon than they sequester.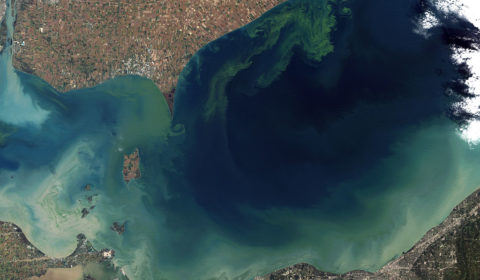 4. Water Pol­lu­tion: Home­own­ers use 10 times more chem­i­cals per acre than farm­ers, and these chem­i­cals can run off into sur­face waters. Fer­til­iz­ers con­tain nitro­gen and phos­pho­rus, which can cause algae blooms, and ulti­mate­ly result in dead zones when the decay­ing algae con­sumes the dis­solved oxy­gen in the water. In addi­tion, many pes­ti­cides used in lawn care are tox­ic to aquat­ic organ­isms – from inver­te­brates to fish.
5. Bio­di­ver­si­ty Loss: Earth is in the midst of the Sixth Mass Extinc­tion, caused most­ly by habi­tat loss. Humans alter ecosys­tems for many rea­sons, but the biggest is agri­cul­ture – more than 40 per­cent of Earth's land is used to grow food. Our gar­dens pro­vide lit­tle habi­tat val­ue, and the result is that many organ­isms don't have a place to live. In addi­tion, pes­ti­cides kill many inver­te­brates, includ­ing ben­e­fi­cial ones such as pol­li­na­tors and preda­tors, and can dis­rupt food chains by leav­ing preda­to­ry con­sumers with lit­tle to eat. Pes­ti­cides also kill over 70 mil­lion birds each year, and are poten­tial­ly a main dri­ver in the glob­al amphib­ian decline.
6. Inva­sive Organ­isms: Gar­den­ers and ecol­o­gists use the word "inva­sive" dif­fer­ent­ly. In eco­log­i­cal terms, an inva­sive species is one that is intro­duced to an area in which it is not native, and that caus­es wide­spread envi­ron­men­tal and/or eco­nom­ic harm. Not every intro­duced organ­ism will become inva­sive. Most inva­sive species tol­er­ate a wide range of envi­ron­men­tal con­di­tions, repro­duce quick­ly, and lack the con­trols that kept their pop­u­la­tion in check in their native ecosys­tem, such as preda­tors, com­peti­tors, par­a­sites, or dis­eases. Many of our most destruc­tive inva­sive species were intro­duced for hor­ti­cul­tur­al rea­sons. Some, such as the orna­men­tals Japan­ese knotweed and burn­ing bush, were intro­duced pur­pose­ly. Oth­ers, such as the chest­nut blight, which hitch­hiked on the intro­duced Japan­ese chest­nut, were intro­duced acci­den­tal­ly. This dev­as­tat­ing fun­gus killed off the Amer­i­can chest­nut, which was once the most com­mon and impor­tant tree in the forests of the east­ern Unit­ed States.
7. Noise Pol­lu­tion: Lawn mow­ers and leaf blow­ers are loud! Most lawn equip­ment pro­duces lev­els of 90 – 115 deci­bels. Sounds above 85 deci­bels can cause hear­ing loss, but noise pol­lu­tion can also result in stress, high blood pres­sure, sleep loss, and headaches.
8. Flash Flood­ing: Urban and sub­ur­ban areas have large amounts of imper­me­able sur­faces, such as con­crete and asphalt, and lawns. Due to their short root sys­tems, lawns aren't able to cap­ture water as effi­cient­ly as a prairie or for­est ecosys­tem, result­ing in urban flash flood­ing dur­ing heavy rains.
9. Time and Mon­ey: Lawns are high main­te­nance! Amer­i­cans spend $36.9 bil­lion a year on lawn and gar­den care, and the aver­age home­own­er spends about 70 hours a year on lawn and gar­den care (Amer­i­can Time Use Sur­vey through link).