The Massasoit STEM Research Internship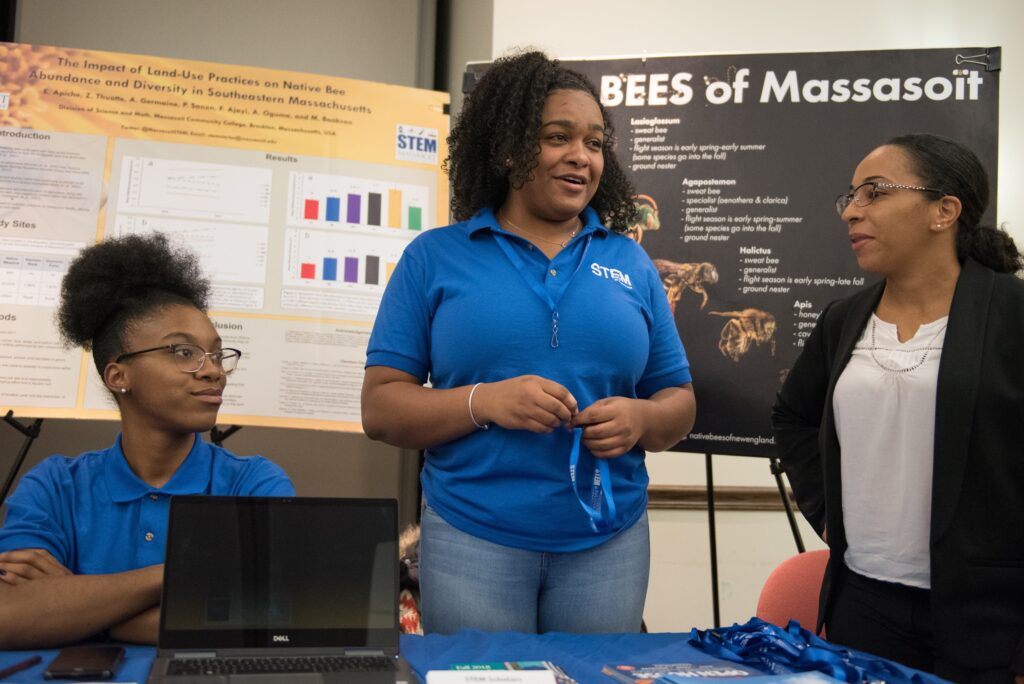 What is the Massasoit STEM Research Internship?
Mas­sas­oit STEM offers Research Intern­ships that are unlike any oth­er intern­ship you will find. The impor­tant dif­fer­ence is that these posi­tions are more like a real job—doing real sci­ence. You will not spend your time watch­ing oth­er peo­ple do the impor­tant stuff! We believe that the best way to learn how sci­ence works is to do real sci­ence, even if you have lit­tle or no expe­ri­ence and have not had very many sci­ence class­es. Even though our research is done by stu­dents, we main­tain the stan­dard of pro­duc­ing mean­ing­ful, pub­li­ca­tion-qual­i­ty sci­en­tif­ic results. To main­tain these stan­dards, stu­dents are trained to inde­pen­dent­ly do the many tasks required for a suc­cess­ful research pro­gram. That is why we say these posi­tions are more like a real research job than a tra­di­tion­al internship.
So then, why do we call it an internship?
Tra­di­tion­al­ly, intern­ships are meant to allow peo­ple to get expe­ri­ence in a cer­tain field, to learn about the jobs they may want to have in the future, and to gain knowl­edge and expe­ri­ence that will help them land that first job. Even though we have high stan­dards for our work, we are also ded­i­cat­ed to these goals, and we focus on teach­ing research while doing research. In oth­er words, we believe that the best way to teach good research is to do good research. Fur­ther­more, we know that that good research involves much more than just col­lect­ing data or doing some menial, repet­i­tive task in the lab­o­ra­to­ry. To be a func­tion­al sci­en­tist requires many dif­fer­ent skillsets. By work­ing with the senior researchers in our group (fac­ul­ty & staff), stu­dents will improve sci­en­tif­ic lit­er­a­cy and pub­lic speak­ing in our Jour­nal Club, learn exper­i­men­tal design and data col­lec­tion by par­tic­i­pat­ing in the Native Pol­li­na­tor Project, and even have the oppor­tu­ni­ty to devel­op and present their own find­ings at a sci­en­tif­ic meet­ing like ESA (Eco­log­i­cal Soci­ety of Amer­i­ca). These activ­i­ties are part of a process that is designed to improve pro­fes­sion­al­ism, soft skills, and crit­i­cal think­ing. The con­fi­dence that comes with these achieve­ments will set you up well for what­ev­er chal­lenges follow.
What if I I am not a biol­o­gy major (or just not inter­est­ed in ecology)?
Yes, if you want to be an ecol­o­gist, this pro­gram might seem like a per­fect fit. How­ev­er, we have had many great interns who were pur­su­ing sev­er­al oth­er types of STEM edu­ca­tion. The good news is that the foun­da­tion­al skills of sci­ence are uni­ver­sal. In fact, most of our research interns do not want to become ecol­o­gists, and a large per­cent­age do not even want to be any kind of biol­o­gist. You have lots of time to decide what you want your career to be. We want to help you get some basic skills that can help get there once you decide, even if you change your mind a cou­ple of times.
The intern­ship is part-time dur­ing the school year (10 hours/week), and full-time (30 hours/week) dur­ing the sum­mer. The pay is min­i­mum wage. Please fol­low the link below to apply, and email ques­tions to STEMResearch@massasoit.edu. Pref­er­ence will be giv­en to those stu­dents who have par­tic­i­pat­ed in the STEM Schol­ars program.
Click here for the application!