Next week is #STEMWeek! Here at Mas­sas­oit STEM we have some great events planned to cel­e­brate and educate:
All events at https://massasoit.zoom.us/my/stemresearch
Mon­day, 10/18 @ 4PM – STEM Alum­ni Pan­el
Five for­mer Mas­sas­oit STEM Research Interns will dis­cuss how their expe­ri­ences at Mas­sas­oit led them to suc­cess at four-year schools—and beyond. Hear their per­spec­tives on "doing com­mu­ni­ty col­lege right" and best prac­tices for an effec­tive trans­fer expe­ri­ence. Pan­elists: Qiao Li, Belun­da Moi­se, Mol­lie O'Keeffe, Jor­dan Palmer, Prisca Sanon, and Alex VanHelene
Wednes­day, 10/20 @ 12PM – STEM Speak­er, Latonya Jack­son
Join STEM Schol­ars for a pre­sen­ta­tion by Latonya Jack­son, PhD, assis­tant pro­fes­sor at the Uni­ver­si­ty of Cincin­nati. Dr. Jack­son will dis­cuss her edu­ca­tion­al path in biol­o­gy, her career as an edu­ca­tor and researcher, and her work in the areas of fish biol­o­gy, fish and aquat­ic tox­i­col­o­gy, phar­ma­ceu­ti­cals, endocrine dis­rup­tion, and water quality.
Fri­day, 10/22 @ 12PM – Cap­stone Pre­sen­ta­tion: Belun­da Moi­se
Belun­da Moi­se uti­lized her expe­ri­ence as a Mas­sas­oit STEM Research Intern and our expan­sive Native Bee data­base to inform her B.S. cap­stone project at Stone­hill Col­lege, enti­tled Analy­sis of native bee nest­ing guild rich­ness and abun­dance in an urban ecosys­tem in South­east­ern Massachusetts.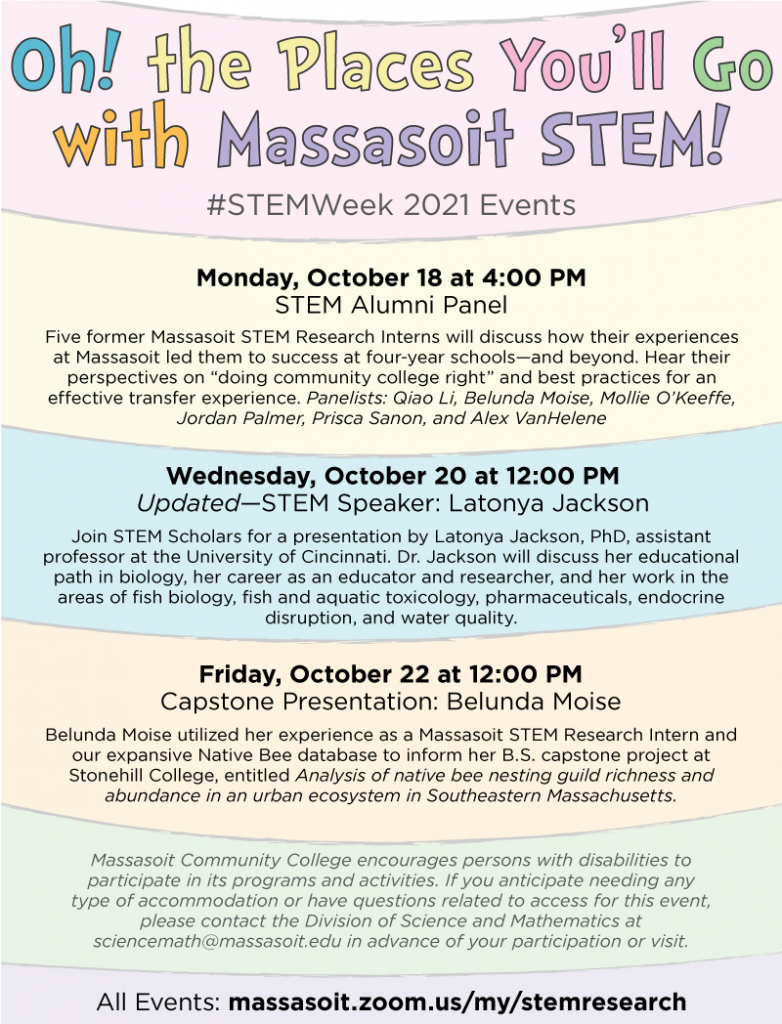 Mas­sas­oit Com­mu­ni­ty Col­lege encour­ages per­sons with dis­abil­i­ties to par­tic­i­pate in its pro­grams and activ­i­ties. If you antic­i­pate need­ing any type of accom­mo­da­tion or have ques­tions relat­ed to access for this event, please con­tact the Divi­sion of Sci­ence and Math­e­mat­ics at sciencemath@massasoit.edu in advance of your par­tic­i­pa­tion or visit.